Administrator
Admin
Moderator
I prep my heads before hand so I have a pile of complete heads to choose from. Lately I've been big on utilizing foam cylinders made by Wapsi. Slice a cylinder in half and pair it with a Ahrex Predator Stinger. I like the big gap on this hook. Pierce it with a bodkin. The process goes glue on hook, thread, glue, chenille (small), glue, popper head. You can see the placement of hook in cylinder below: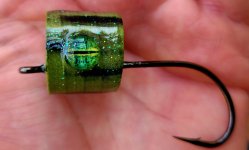 Then I usually play around with coloration using Copic markers and smear them with my thumb. I glue the eyes on. Then first coat of epoxy is brushed on (I use Devcon 30 minute). If you want sparkles add them this coat. Then I put on the spinning wheel. I can do about 5 with a small batch of epoxy (30ml's) mixed per manufacturer recommendations before it gets too gummy. Then I do a lighter second coat after 24 hours on wheel especially making sure the front and back of hook has a nice application as this will help keep cylinder in place and prevent spinning over time.
I like to tie in a couple rooster saddle feathers deceiver style: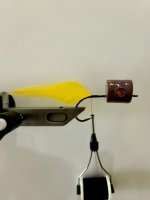 Then I take two smaller rooster saddle feathers and V out from those: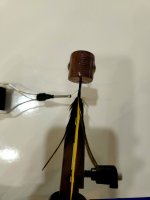 Then I like light and dark flash:
Tie in shlappin feathers here I did 3 browns and an olive black tip: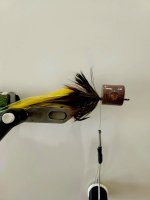 Now wrap and get a good thread base. This is key to getting the rubber legs to flair out skirt style. I get my rubber from fishingskirts.com and it's way cheaper then from fly shops and you get 10 tabs.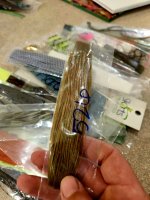 This is for a full tab: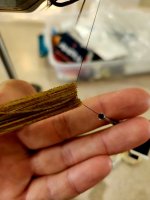 Position rubber and wrap three wrap then massage rubber around to form 240 degrees of coverage around the hook: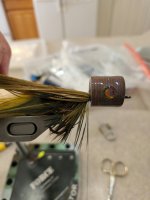 Pull tight almost like you do with deer hair and it should flair out. Tie off and cut to length: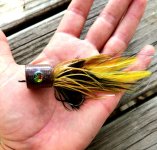 Any questions?
Billy
Last edited: