Be vewy vewy quiet, I'm hunting Cutthwoat Twout
Forum Supporter
I'm learning to fish lakes again and have the privilege of fishing a private lake that some members of a couple of local fly clubs have created a partnership to stock. Tuesday I was trolling a beadhead black & red SimiSeal leech on an intermediate line with no results when I got to a spot about 50' from shore that my fish finder's alarm was going crazy painting many-many fish from 6'-15' below me. Following the protocol that
I think
Tim Lockhart's book suggests I reeled up the leech and grabbed my other rod rigged with a type IV and this fly I had picked at random to strip in while stationary.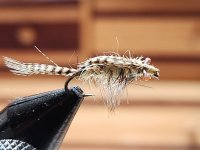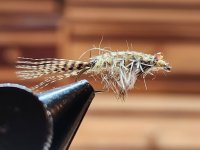 After a couple of casts and counting down to ~15' I had a
strong
grab from this fish with most of my line in the stripping apron that put up a terrific tussle.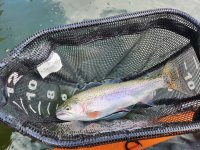 He was hooked in the upper lip and the fly popped out in the net so I was glad I kept a tight line. After snapping a quick photo I let it recover in the net, then turned the net over for a no-touch release. Then I logged the catch but didn't know what the name of the fly is. The fly got mangled on subsequent fish though.
It's simple and I can easily tie up more, making it more durable but my OCD wants to know,
what is the name of the fly, and what does it imitate?
Thanks in advance!