Every winter, the cold hits with the snow and ice and as the days shorten, a fly fisher is left longing for an opportunity to simply get out and catch a fish. Living in the Columbia Basin, the winter opportunities that are available are fairly well known. Mainly being Rocky Ford, the Yakima and the Columbia River. This article is not about fishing these resources as much has already been written about them. However, the information found within can certainly be used to fish them as well! This article is more about how you can lace up your boots, head out and find some truly spectacular winter rainbow trout which are simply off the grid to most fly anglers.
The first thing to do in finding these fisheries is simply locating moving water. The area is fed by a large complex system of irrigation drainage almost like a network of spider webs over the land. As the water flows, it often connects with area ponds and lakes. This is often where the larger rainbows move up during the winter time. Because the irrigation water for much of the area is turned off in the winter, what is left is often clear enough to fish where during the summer it is off color and looks more like carp water. That isn't to say that the water closer to the lakes doesn't hold fish - because it certainly does. These fish behave almost like steelhead; staging and pushing up with high water from rain/snow events. It can be a challenging fishery to pinpoint where the fish are to say the least, and this is where research can really come in handy.
The first step I do is to simply trace on google maps any moving water I can find from upstream to downstream. This can actually be hard to do as some of these waterways go underground or braid to the point they are hardly a stream at all. You often have to put boots on the ground to explore and truly see what you are working with or if the water is fishable. On top of using google maps I utilize the
OnX Maps app
to help differentiate between public and private property and to find access points.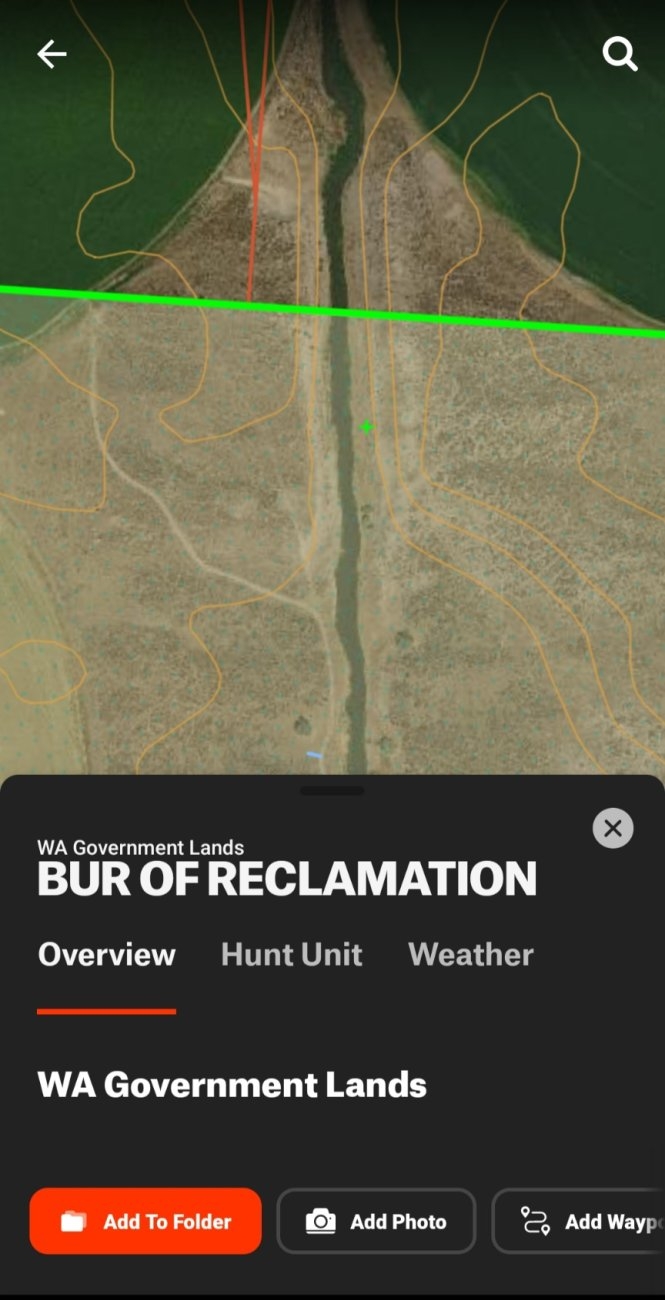 When in doubt, it is always better to ask a landowner than to risk trespassing.
After locating an area that is public and looks like it might hold trout, it is time to venture out. Winter fishing is all about being prepared and layering appropriately. I pack a small backpack, net, water, snack, leader material, indicators, fly box and waders/boots.
For layers, I go with thermals, fleece-lined hunting pants and a waterproof parka. It's better to be prepared than cold and miserable. When planning for these fisheries, realize that often times, hiking a few miles is in order. This might be as good a place as ever to mention to be aware of a soft bottom and thick, dangerous mud. In places it can truly be life-threatening.
That's not to say that pleasant wading can't be had - but just be aware that if it looks like a soft bottom to be very, very careful. The good news is that you don't have to worry about ticks or snakes during the winter, and the shore is often a flat, relatively easy hike. You don't have to cast far on these small bodies of moving water so even if you can't wade you can often cast from shore simple enough.
Once you arrive on location it's time to set up and start looking for fish. My go-to setup is a black jig leech with a orange bead below an indicator.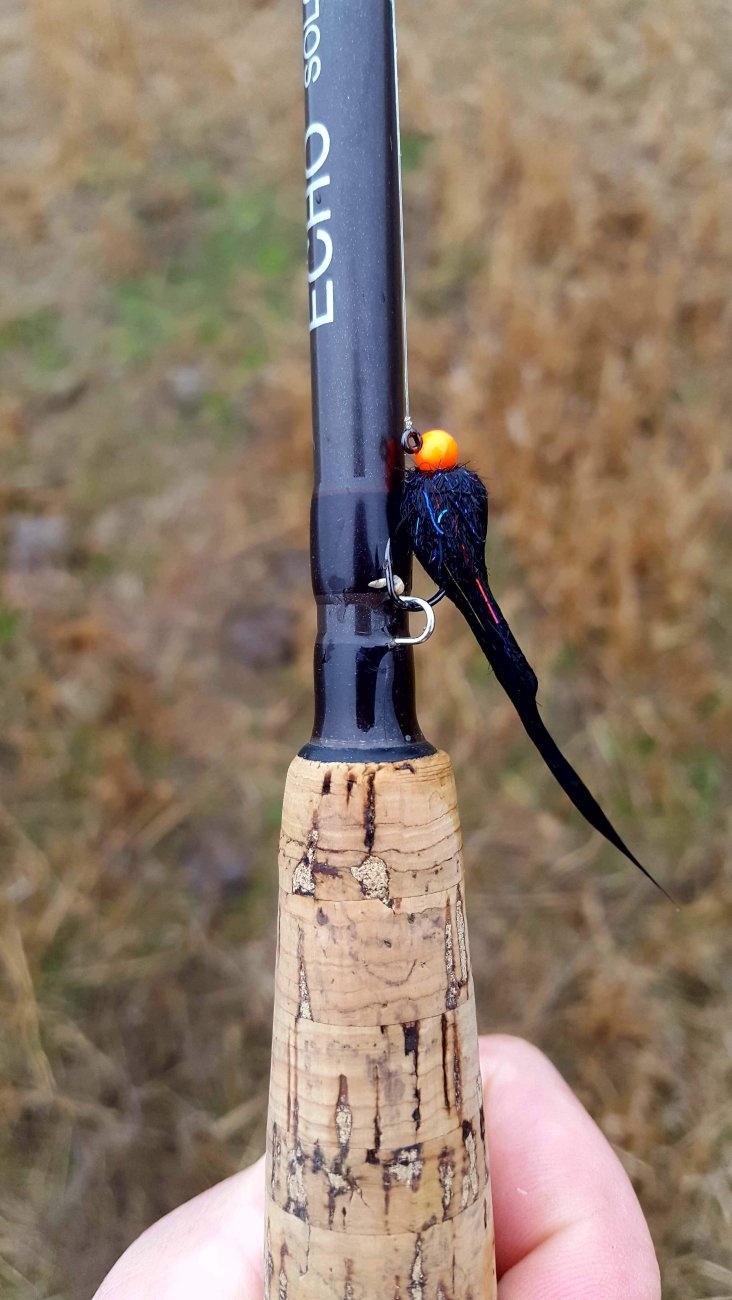 I'm so confident in this fly after the last several years that many winter days it's the only thing I fish. Often in winter, the fish are found in slower moving water where it can be a painfully slow drift downstream. Keep an eye on that indicator, though, as at any given time a 20 plus inch rainbow could make it all worthwhile. I use 8 to 12 pound fluorocarbon as a tippet for a reason. These fish can easily make it into your backing and provide a great fight.
As it gets closer to spring, and even in early spring, the fish seem to stage in various locations. If you catch one, immediately cast into the same location. You may just find several fish in a row. I had one memorable day last year where it was so windy I almost didn't fish. However, when I arrived at the stream and started fishing, the fish were in a feeding frenzy and almost every cast was rewarded.
Occasionally, you will find opportunities for carp and even bass throughout the winter. Just keep your eyes peeled and stay ready for whatever opportunity you find!
I hope this article can serve as motivation to get out this winter and give a new area a try. You can do a lot worse than hiking and exploring in the Columbia Basin this time of year! With a little luck, you may just catch your biggest rainbow of the year!