Bow mount trolling motors are awesome. You have a much better view of the area you are fishing. They allow you to have far greater control over positioning in tight spaces. Poking around docks and other structure, you get a tighter turning radius and better fine positioning ability. Anyone who has tried to tuck in between two tight docks and get back out again with a transom mount trolling motor can tell you that it's not particularly easy. In addition, pulling a boat is more efficient than pushing, especially in the wind. And the motor and battery even adds a little weight to the bow, which can help with planing and ride. Overall, if you fish lakes, especially for bass, you'll likely be happier with a bow mount trolling motor than a transom mount one. What's the drawback? Well probably the fact that bow mount motors start at $500 and go up to about $3000.
So, what if you aren't sure if a bow mount would be useful for you? What if you just fish around complex structure from time to time? What if bass is just a "when the trout aren't biting" sort of thing? Let me introduce you to the
Pro Controll EZ Mount
…
What is it?
The Pro Controll EZ Mount is a bracket that clamps onto the gunwale of your small jon or utility boat and allows you to use a basic transom mount trolling motor as a bow mount trolling motor. At $85, will it let you be a Bassmaster without breaking the bank?
Installation
The Pro Controll EZ Mount will work on most small boats, but there are a few limitations, so let's go through those first. The maximum gunwale/top rail width is 3", so anything over that won't work. The clamp screws are 1.125" below the top of the rail, so anything thicker than that won't work. However, this covers the vast majority of small boats that one might use for lake/pond fishing. You also cannot use a motor with more than 80lbs of thrust. All metal parts are hardened stainless steel and the body is fiberglass reinforced nylon. It should be noted that the EZ Mount is not designed for use on kayaks, inflatable rafts, or pontoon boats.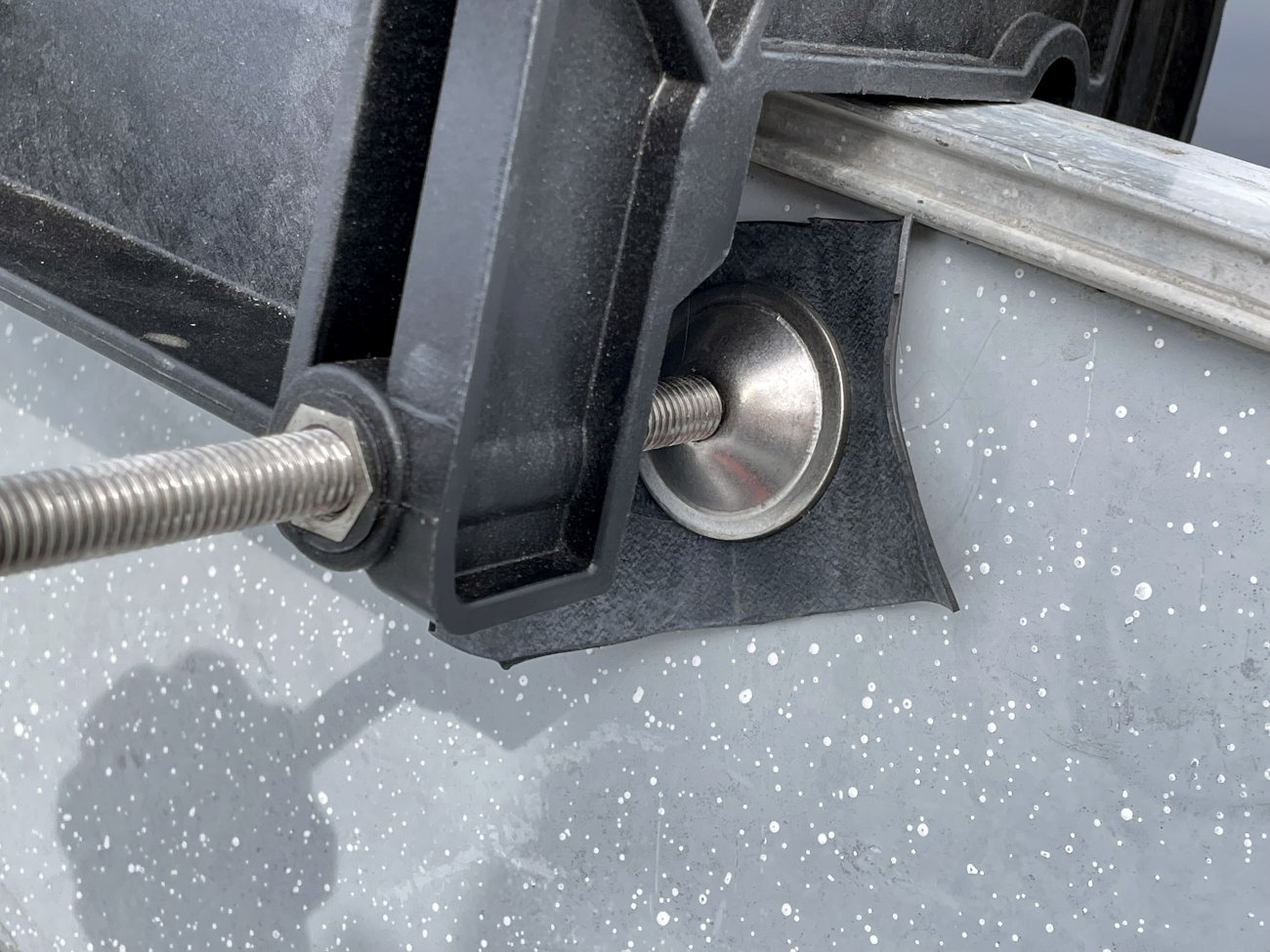 To install the EZ Mount, you place it over your boat's top rail. You then fit the external bracket against the outside hull, and tighten the bicycle-wheel style quick release clamp. Finally, you spin the clamp screws tight against the inside hull of the boat. An important work of caution on that. The metal clamp screws can damage the paint if your boat is painted on the inside. My solution was to use a couple 1-2mm rubber scraps under the clamps (pieces of innertube work fine). Now, if your boat is a beater, or you simply don't care, this might not matter. But regardless, it was easily solved. Once the EX Mount is installed, you mount your trolling motor onto it just like you would on a transom.
Here is an installation video from Procontroll:
What motor can I use?
Just about any transom mount trolling motor with less than 80lbs of thrust will work. The only requirement is that your motor has to be able to have the "head" spun around 180 degrees so that the handle and the propeller are on the same side (a transom mount motor has the handle and prop on opposite sides of the shaft from each other). For my Minn Kota, this was as simple as taking a bolt out, spinning the head around, lining up the holes, and reinstalling the bolt. My only note is that you should probably remember which direction you spin the head so wires don't get too twisted, if you think you'll be making this switch very often.
In Use
The ProControll EZ mount works just as you'd expect it to. You can guide your little boat in and out of tight spots between docks or around other structure very easily. You can even use it to get away from the boat launch if you are a polite sort who doesn't like to crank up his 200hp motor and race away in the no-wake zone. I have scooted in and out of hundreds of docks with mine, fished all around pilings and swimming platforms and laydown trees. It's just really outstanding (particularly when bass fishing) to have the extra control and tight turning radius that a bow mount motor gives you. Yes, if you're used to a real bow mount motor, you'll miss having a foot control. But other than that, this thing is pretty awesome and does just what it says.
There were only two disadvantages I could find. One is that most stern mount electric trolling motors have fairly short shafts, not really needing to cover a lot of distance to get into the water. This means that when used as a bow mount motor, anyone over "child" height is likely going to have to reach down to grab the handle and steer the motor. This isn't terrible or anything, it's just a little less than perfect. If someone was really frustrated over it, they could probably solve the issue with an extension handle.
The second issue is rare and seems specific to v-hull boats and only when using the higher motor speeds. On jon boats it probably won't be a problem due to the fact that the mount is perpendicular to most of the motor's force. But because on a v-hull the mount is at an angle to the force of the engine when going forward, there is a specific direction that you can steer the motor that will put the motor's force parallel to the mount. If you crank it up to top speed (especially quickly), instead of pushing against the mount, the motor wants to try and twist and can indeed pull itself partially off. To be clear, This only happened once and never when I was using typical fishing speeds, but it was surprising enough to mention. Did this mean I didn't tighten the trolling motor enough on that one trip? I don't know, I felt like it was on there pretty good. But human error is always a possibility and perhaps I could have tightened the clamps a bit more.
Overall, I was very pleased with how the Pro Controll EZ Mount performed. Sure, it wasn't as handy as a foot control bow mount motor. But outside of hands-free fishing, you've got most of what a standard bow mount motor gives you at a much cheaper price. And on the flipside, one advantage that the EZ Mount offers over a regular bow mount motor was a little unexpected. Most (all?) bow mount motors do not offer reverse gears, but all transom mount motors do. So to reverse with a regular bow mount motor, you have to spin the whole motor around 180 degrees. To go in reverse with a transom mount motor on the EZ Mount, you just have to twist the handle to the reverse speeds. This is actually VERY handy for maneuvering in tight spots.
Conclusion
Pros
Inexpensive to buy (and used transom trolling motors are as well)
Installs easily on most boats
Removes easily, not permanent
Having a reverse option is surprisingly useful
Works just like you'd expect
Cons
Need to have a motor that can be spun around (although most seem to)
Can mark up inner boat paint without a protective pad
May be a little low depending on shaft length
At full power at a specific angle, may twist itself on the mount (v boats)
If you are looking to try out a bow mount trolling motor and have a small utility boat, the Pro Controll EZ mount is well worth its $85 price. Most any old trolling motor you have in your garage will work and you can be out on the water with it in just a few minutes. The drawbacks are few and the advantages of having a bow mount motor more than make up for them. I would have no problem recommending the EZ Mount to anyone.
If you end up fishing with a bow mount all the time, you probably will want to step up to a real bow motor, even if just for the foot control. But if you just want to see if a bow mount motor would be useful, or only occasionally find yourself poking around docks and other structure on a lake, the Pro Controll EZ mount is a great and affordable way to go.
Where can I get one?
You can order directly from
https://procontroll.com
. It is also
available from Amazon: CLICK HERE
Does it help you catch fish?
Yes, yes it does. Though apparently not giant ones if you are going off of this example..