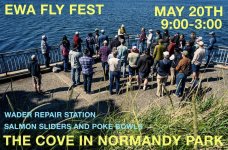 Hey everyone!
We just wanted to drop a post off and invite you all to our FLY FEST 2023 in Normandy Park Cove on May 20th, from 9:00-3:00.
We will be offering a few clinics on topics from casting, fishing the Puget Sound, and also taking better fish photographs.
If you have any questions, feel free to drop a comment in this thread or give us a shout at the shop.
We're looking forward to seeing everyone there!