Be vewy vewy quiet, I'm hunting Cutthwoat Twout
Forum Supporter
Is anyone using craft beads
?
A few years back at an IFF Washington Fly Fishing Fair, there seemed to be a theme going on among many of the fly tiers with low cost alternative materials. One of which was beads. I stopped by a local bead specialty store and was amazed by the variety and the very low cost compared to what was available in fly shops. There was glass and plastic in a myriad of colors; even white
glow in the dark
. The better grade of glass beads were very uniform in size.
There was also gloss black
Hematite
magnetic.
I remember Doug Swisher writing he preferred the more natural appearance of black beads. And the Hematite's magnetic characteristic of a moving electric charge made me
curious
.
So I spent about $15 for a few strands of glass and hematite beads to check out.
Problem: I found many of the beads had holes that are too small to go around the bend of a J hook up to the eye.
Solutions?
I remember one of the tiers at the WFF Fair mentioned he was drilling them out. Is anyone doing that? What kind of vise and drill do you use?
Is anyone tying in a straight pin to the hook shank for the bead and tying the tippet into the hook eye below the bead (
or likely
above
once in the water
)?
Naturalistic and Alternative Materials
Back in 1990 I purchased a book titled
Effective Lake Flies - A Float Tubing Guide to Productive Patterns by Mike Andreasen & Allan Ryther.
They mentioned the term "
Naturalistic
" for fly characteristics in addition to size, color, shape and action. They specifically called out the iridescence of peacock herl, soft, fuzzy, furry, materials, materials that hold air bubbles and have the "
halo effect"
(subtle flash) when wet, and "
spectrumized colors
". They used the
spectrumized
Canadian Mohair
yarn
in a few
unweighted
sparsely dressed leech pattern variations that are stupid easy to tie.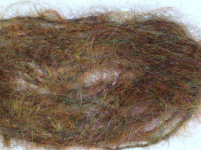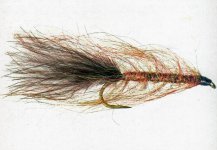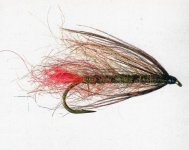 I found them to be fairly consistent for trout and bass at a couple of small local lakes. At some point I began to fish streams almost exclusively and more or less forgot about spectrumized Mohair. Later I heard about synthetic Dazzleaire yarn that has clear filaments in the plies that give off a flashy sheen (halo) when brushed out and began tying flies with it in various colors. It works well tied sparsely as a body material in dry flies because it doesn't absorb water.
And I thought more about hematite.
Is a magnetic field; a small moving electrical charge another "naturalistic" characteristic that a fish can sense, enticing it to strike?
Some of the hematite beads have the problem with the small hole size going over a J hook bend. Unfortunately hematite is brittle so I don't think they can be drilled. However picking through them with forceps I find many beads that work.
I decided to take up Tenkara sometime after visiting the bead store and tied my first fly with a hematite bead; a variation of this using rust colored Dazzlaire yarn (lots of flashy strands when brushed out), Olive Ice chenille (now use dubbing), soft variegated Guinea Hen hackle (intended to sink and have an exaggerated flowing movement).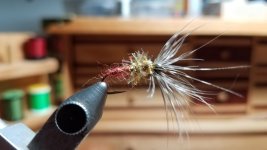 Standing on the bank near a spot where I'd had success over a number of years with a fly rod & reel, in mid-May with high water that I could not wade into and no backcast room because of trees behind me, I did a slingshot cast about 15 feet out and hooked - landed this; my 2nd fish on a T-rod.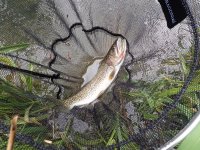 +1 for Tenkara, Dazzleaire and hematite!
Recently I have decided to start fishing lakes more. A friend has had consistent success at several area lakes popular amongst fly anglers with a gold bead - black & red Simi Seal leech (dubbing loop method). I purchased some Simi Seal and the ~1" long Simi Seal fiber lengths make it very nice for tying bushy, "flowing" body profile when brushed out. I have tied up a few with the black hematite bead to to see how they do soon at a private lake I help to stock.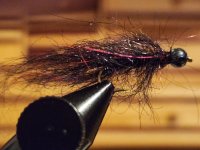 Wanting to tie up a few more leech patterns in spectrumized yarn I discovered my supply was getting low. The Mohair
yarn
in strands is no longer available but it can be purchased as dubbing. However when purchasing the black and red Simi Seal, I found he also offers spectrumized brown and olive Canadian dubbing so I also got them. Here is the Canadian brown color with a hematite bead.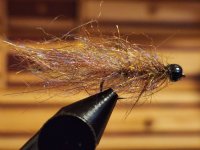 Another thing I do to add a subtle
naturalistic
(?) flash is use a (light) coat of glitter nail polish as head cement that leaves a small amount of colored speckles on thread heads and beads.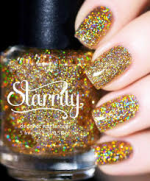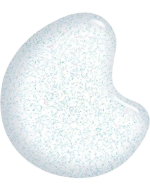 Mrs. Brian likes to go on vacations where she can quilt while I fish. When out and about with her, she likes visiting quilt stores. I go in to take pictures of cool quilts for her and look for alternative fly tying materials and tools. She's often amused (or bemused-annoyed) that she has to wait for someone to help her but I will often quickly have a clerk come up and ask if I'd like help to find something. I once bought a whole box full of discontinued Dazzleaire yarn skeins in various solid and variegated colors for $12 and brought them to the fly club for the guys to take whatever they wanted. Recently I found some glow in the dark polyester thread and am trying to think of patterns and situations to use it.
Other thoughts on using craft beads, craft fur, and other alternative materials to add "
naturalistic
" characteristics to your flies?
Last edited: