Fish the classics
Forum Supporter
Took my Wright and McGill Granger 9660 to the Cowlitz today. First time fishing the 9660. It's a powerful 9'6" 7 weight single handed bamboo rod. Was throwing lovely long casts into a tailout and this happened.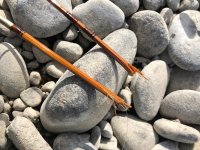 A break in the tip section about two inches above the ferrule.
Anyone else had a bamboo rod break during casting? The 9660 is not a dainty tiny tip bamboo rod - it was marketed for bass, large trout and steelhead. I was fishing a 7 weight 406 weight forward line and so the rod was not over-lined. Wondering if it simply had a weakspot which I wasn't aware of when I bought it. The rod wasn't in great shape when I bought it and was a project.
Last edited: