I fished a lake that's been ice-free for probably a week. Sampled a couple fish and found some interesting stuff! Which one is the emerger again?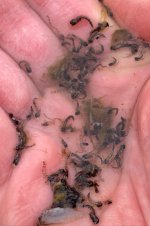 It's always interesting to see the differences between early season lakes. Sometimes it's just daphnia all day. Or huge quantities of bloodworms. In this particular sample I see some meaty damsel nymphs and a juvenile sunfish along with a few different sizes and colors of chironomids. The fishing was pretty tough. There were a couple spots with active fish around but lots of quiet hours.
Seen any good samples recently?