@Emily27
asked for an SBS on that caddis pupa I posted over in the "What's in Your Vice" thread. Here it is, in Mothers Day colors since that is the closest hatch I can think of.
Here is the bug I was trying to imitate:
Here is what I came up with: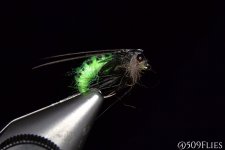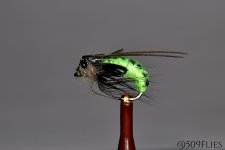 Materials
Hook: Firehole Stones 316 Nymph/Emerger, Size 14
Threads: Veevus 100D GSP White, and Veeveus 14/0 Olive
Weight: .010 and .015 lead wire
Body: Hemingway's Starlite dubbing Lime
Back: Sculpting Flash Fibers Black
Thorax: Natural Squirrel Dubbing
Wingpads: Black Hen Cape
Legs: Same as Wingpads
Eyes: Burnt Mono coated with Black UV Resin
Antennae: Pheasant Tail Dyed Dark Dun
UV Resin: Loon UV Thin
Step 1: Insert hook in vice (notice the angle of hook in vice) and take 8 wraps of .010 lead wire, and then 8 wraps of .015 lead wire. Cover lead wraps with GSP, and build a slight taper. Attach olive thread and wrap over the GSP a bit, cut tag end and GSP off.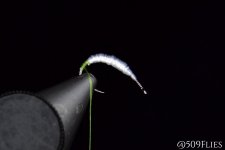 Step 2: Dub a little bit of Lime dubbing, then tie in the Sculpting Flash Fibers. Alternate a couple wraps of dubbing, then pulling over the fibers, taking a wrap of dubbing over them, pull back sculpting flash fibers, take a couple turns of dubbing, pull sculpting flash fibers over, one turn of dubbing over them, etc.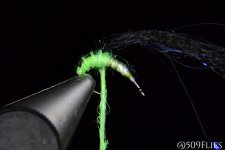 Step 3: Finish the body, then rotate the hook in the vice so it is in a more normal position. Tie back the sculpting flash fibers (like you would tie in a wingcase).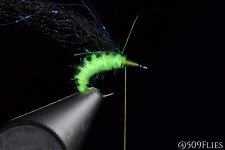 Step 4: Dub a small amount of squirrel dubbing. Pull the fibers over the top of the squirrel dubbing to create a wingcase. Coat wingcase with UV Resin.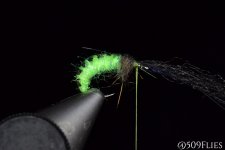 Step 5: Tie in Hen Feathers (
origami style
) on both sides of the body. Tie in some hen hack barbules on the underside of the body. Trim away excess, and tie sculpting flash fibers back like you would tie in a wingcase. Apolgies for the crappy pic here, I should have lowered the shutter speed, and used a white background at this point.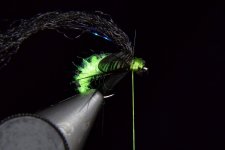 Step 7: Attach mono eyes, figure 8 style. Dub around the eyes with squirrel dubbing. Pull over sculpting flash fibers and tie down, trim away excess. Tie in antennae. Put some UV resin on the wingcase, pull the antennae over the wingcase, and cure with UV light. Whip Finish and cut thread. This is kind of hard to explain, but take a bodkin needle, and pull hen fibers (legs) forward a little bit with your right thumb and forefinger, while pinching the tips in your left thumb and forefinger, to about to the eye of the hook. Move your thumb over and mash down the barbs to create a crease in the fibers. Pick squirrel dubbing out a bit. Careful with this, you can see that my velcro actually caught one of my origami wings and broke some fibers in it
. It's OK, it will still fish. And I think that's it!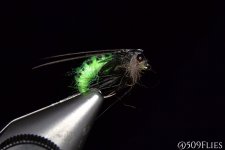 And on a white background, from the opposite side, so you can see the fold in the legs, and a more decent origami wing.