I just got back from a trip to see some old friends and family, and there was a decent amount of casual, fun fishing, so I thought I'd share a report.
The first stop was my buddy's "cabin" that he just built on 70 acres in the oak-pine woods of Northeast Alabama, not too far from the spectacular Little River Canyon National Preserve. It's mostly steel and glass, very modern and open and airy, and nestled right into the woods, with trees left standing all around the structure. A relaxing spot, great for birding.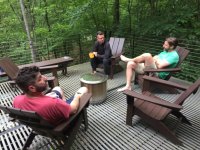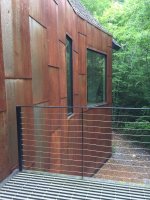 The Little River is really interesting in that the entire river forms and flows almost its full length on top of a mountain (Lookout Mountain), into which it has carved a substantial gorge. There are some impressive waterfalls in the canyon, and a nice twisty scenic road with many lookouts up on the canyon's rim. We checked it out at a couple spots and made a few casts at one, but we didn't seriously fish.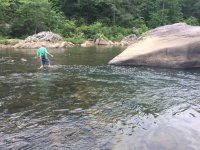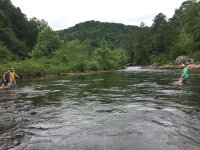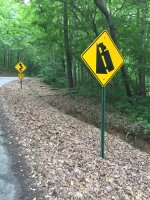 The trail really is that steep.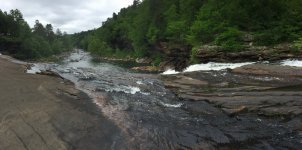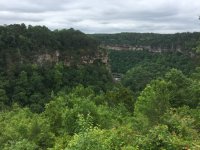 The Little River Canyon
I did spend some more time casting into the pools of the creek that flows through my friend's property. Redeye bass and sunfish reside in the swimmin' hole. I was able to entice some bass to check out my flies, but could not even get a nibble. The sunfish were more accommodating, but still not complete idiots. I think this is a Green Sunfish. I also caught some Bluegill. There was a gar in this pool that I also managed to hook, but not necessarily fair hook. Still, it was cool to finally get my hands on one of these prehistoric beasts. I believe it was a Spotted Gar, and holding it was like holding a very firm, armored, slimy snake. I had heard gar are really stinky. This one smelled like about any other fish to me. We explored up the creek and into the gorge further than my friend had previously been. We found some really cool bedrock areas, but I didn't have a camera with me. Further up the creek is a "Blue Hole," a big pool, hard to access, where reportedly a Native woman hid out for years after the Cherokee remaining in the Eastern US were forcibly rounded up and brutally marched to Oklahoma under orders from President Andrew Jackson as part of the infamous Trail of Tears. As we walked up the creek, I saw a few bass beds in various spots and blamed the lack of catching bass on spawning-related issues; it certainly couldn't be angler prowess.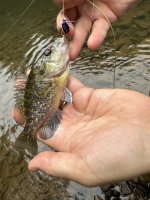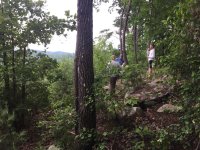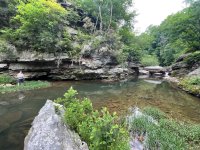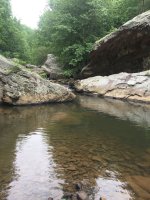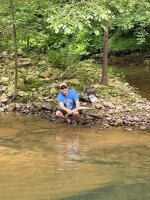 The gar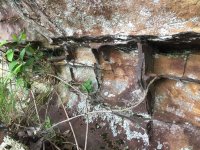 Cool rock formations
Last edited: