There are more than 1,500 lakes in Washington State above 2,500 feet in elevation. Many of these high lakes are stocked or have natural trout populations. Here's what you need to know to take advantage of this opportunity.
The fish
WDFW doesn't stock brook trout any more in high lakes because they tend to naturally reproduce and overpopulate a lake in which case you'll wind up with lots of fish which look like these Thetis Lake brookies.
There are some richer lakes east of the cascades and south of Mt Rainier which are capable of producing bigger brook trout. Many Washington high lakes are stocked with rainbow. This healthy fish came from a Skagit county high lake.
Other Washington high lakes are stocked with cutthroat. The fish below came from a Kittitas county lake which is less than a mile walk on an easy trail.
A small number of Washington high lakes are stocked with golden trout. They are usually difficult hikes. I found a naturally reproducing population of golden trout in a small Washington high lake at the end of a murderous hike. The fish were beautiful to look at and good to eat!
When
When a high lake is ice free depends on its elevation. If a lake is below 3,000 feet it's often snow free by June 1. A lake below 3,500 feet is often snow free by July 1. A lake above 5,000 feet is usually snow free by Aug 1. Lakes on the east slope of the cascades will be snow free earlier than lakes on the west slope of the cascades. Lakes with a northern exposure will be snow free later than lakes with a southern exposure. It's a good idea to check
Washington Trails Association
for trail and road reports before you head out. The peak high lakes season is from July 15 to September 15. My favorite high lakes time is the first two weeks of September. There are fewer bugs and fewer people.
Where
The Washington Department of Fish and Wildlife is a great resource. The
WDFW high lakes page
gives stocking records for every high lake in the state. High lakes trout typically live 5 years so you can assume fish are coming into their prime 3-4 years after a lake has been stocked. For daytrips I limit myself to lakes of less than 2 miles one way. The WDFW lists 186 high lakes as overabundant fish lakes. These lakes are overpopulated due to a combination of too much spawning success and too little pressure. Fish these lakes and fill your creel to lessen the impact of the overabundant fish population on native aquatic species.
Watercraft
I've fished over 50 different alpine lakes in Washington and can think of only 3 which fish well from the bank. A float tube is important to get away from trees so you can fly cast. Get a
Wilderness Lite Backpacker Pro
(3.4 pounds) or an
Outcast Summit
(7 pounds) and strap it to a frame pack.
What to do
If a lake is small I fin my way along the shore casting an intermediate line and a 9' 4 pound test leader with a size 12-14 wet fly to the bank and then use a strip retrieve.
On larger lakes I look for hotspots like
inlets
points
rock shelves
sunken island
steep brushy shorelines
rockslides
Also look for rising and swirling fish. We were having a slow day on this high lake until we spotted fish rising in the middle of the lake over this weedbed. Here I'm landing a double.
Look at this picture of Lake Ann, an abundant fish lake which is a 2 mile hike off Highway 20 on the way to Winthrop. You'll find lots of cutthroat along the steep hillside on the left side of the lake and all around the island at the end of the lake.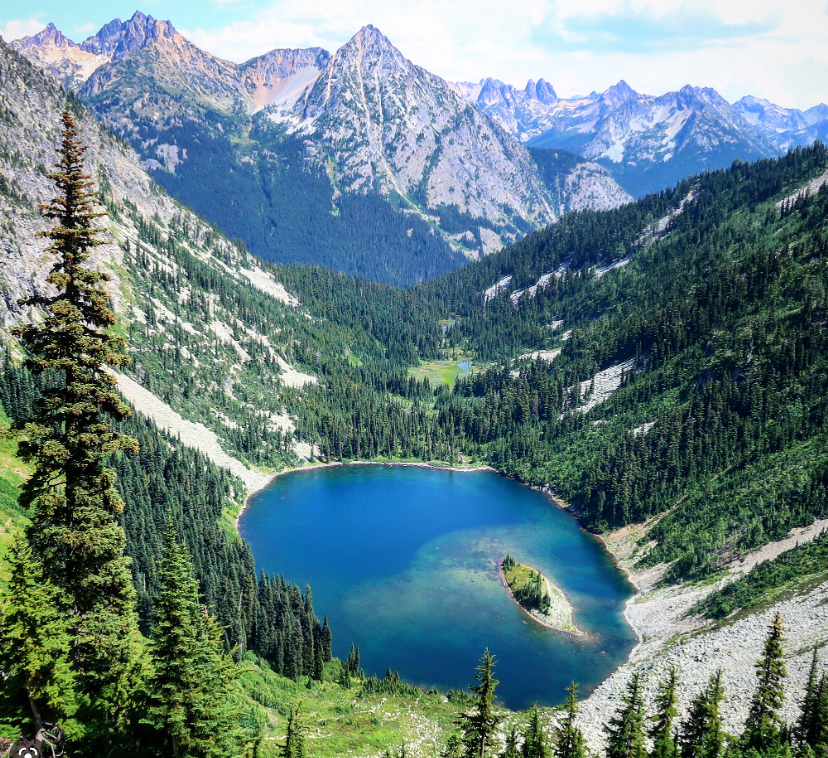 Flies
High lakes trout are opportunists. There's a short growing season and they'll eat anything - terrestrials, dragonflies, sedge flies, mayflies, and chironomids. I like to fish size 10-14 classic wets This box rings the changes with an olive nymph (callibaetis imitation), some Black Pennell and Black and Blae wet flies (terrestrials) and the Carrot Nymph (a bright brookie and cutthroat pattern).
And this box has some bright flies (Yellow and Woodcock), some dark flies (Mallard and Claret), some fry imitations (Silver March Brown) and a Peacock Wooly Worm.
There are three events which can trigger selective high lakes trout behavior: an ant fall; a heavy callibaetis mayfly hatch; and dead still conditions when the fish are taking very small midges. You can prepare for this by tucking a size 10-12 flying ant pattern, a size 14 callibaetis dry fly and a size 18-20 griffin's gnat dry into your fly box. On this day the fish were picky for callibaetis. You can see 6 flies in the picture along with a rise.
Rods and lines
I like 5 and 6 weight bamboo rods of 8' to 9'. The longer rods keep my line from slapping the water in back of a float tube. A longer rod is helpful when the wind comes up in the afternoon. My favorite high lakes rod is a Granger Victory 8'6" three piece 5 weight bamboo.
A 3 or 4 or 5 piece rod is nice because it breaks down small when you are hiking.
I use a cortland camo intermediate line for 80% of my high lake fishing. It casts well and sinks below the surface so there's no surface disturbance on a retrieve. I bring an extra spool of floating line when fish are hitting dries and a spool of full sinking line when I'm on a lower elevation lake during a sweltering august day.
Most of my wet fly fishing is with a 9' leader consisting of 3' of 8lb test, 3' of 6 pound test and 3' of 4 lb test Maxima Flourocarbon. When I'm fishing a floating line I'll a 12' leader consisting of 3' of 10 lb test, 3' of 8 lb test, 3' of 6 lb test and 3' of 4lb test Maxima Ultragreen.
Hiking Gear
Here's a short list of the items which will make your high lakes fishing hike enjoyable.
Gaia app for your smartphone to keep track of where you are and where the trail is.
A frame pack and straps so you can strap your float tube to the back.
Waders, light boots and fins.
A floatation device or floatation vest for your float tube.
A headnet and bug spray especially for midsummer trips.
Sunblock. The sun can be fierce when you're on the water at high altitude.
Bear spray. You'll be glad you have it when you round a corner and see a bear 20 yards away and heading towards you as happened to me on the way into Sauk Lake a couple years ago.
Warm clothes. You'll be surprise how cold you get when you floatube a high lake. I wear wool pants, a long sleeved wool shirt, a puffy vest, jacket, hat and gloves when fishing in the early summer. Easy to shed layers. Impossible to warm up if underdressed.
See you next summer.